Hi, Friends,
I'm Marcy Mosquito, an Asian Tiger Mosquito, or Aedes albopictus, if you want to get all formal. Actually, I'm very pretty to look at. I'm black and have a lot of white stripes like a zebra as well as a long white stripe that starts on my head and runs all the way down my back. But don't call me a zebra mosquito, though; instead, I insist on being called a tiger mosquito. After all, I am also strong and can transmit many dangerous diseases like dengue.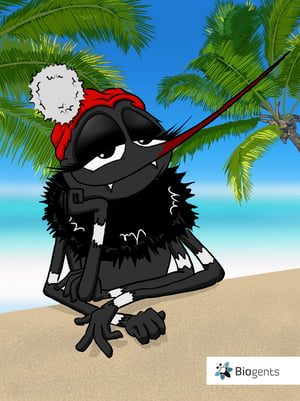 My species has been doing really well over the past 30 years and is spreading all over the world. We like it when temperatures are hot, but evolution helps us and we already got adapted to colder climates, too. For example, our eggs can diapause and survive temperatures as low as 14°F (or -10, for those of you who do Celsius)! You may wonder how we managed to spread from Asia to the United States and even Europe, even though we can only fly small distances. Well, think about it. After all, you don't go everywhere by foot, do you? Instead, you take transport, whether it's a car, a plane, etc. Many of us came here because we asian tigers like to use old car tires to lay our eggs in. And you humans like to trade old tires and other attractive breeding sides such as lucky bamboo and ship them between the continents. If you'd like to know more about me and how I live, I can take you along on my many adventures.
As for me, I live in Florida. I really like that because it is warm here year-round. I have to admit that during the summer months I even have to spend a few hours hanging around some shady bushes, but the weather is pleasant here in winter and I have yet to lose a wing to freezing. It would be quite difficult to fly with just one wing, I imagine. But I'd just as soon not find out! Distances are just too great for a little thing like me to have to walk them. Even though I have six legs, that doesn't mean I'm six times as fast and my tiger stripes don't make me a real tiger, either. I have relatives in Europe. My dearest cousin Marie Mosquito lives there. She was transported as an egg in an old car tire across the great ocean and finally made herself at home in France. I have decided to visit them, but I prefer to wait until the summer, because of the temperatures here so I can laze around the year, be obtrusive, and produce offspring. I need blood to produce eggs and I especially like human blood. It doesn't hurt when I bite you and there's no reason to be afraid: it's just a little poke, after all. It's not always easy, but we usually manage to fly away before you can catch us. We mosquitoes are real survivors.
Today, I'd like to take you to a house where they're celebrating Christmas and everything is so beautifully decorated. Lights are flashing, candles are lit, and, when the whole family comes together, I have an even wider selection to suck blood from. But we have to hurry up because they already came back from church. You see that pretty yellow house over there across the street? That's where we're headed today. There are four large cars parked in front, which means there may be as many as 20 healthy people now sitting around the dining table, waiting to donate some blood. So, let's get started! Let's figure out how to get in there. Last year, the door was hanging wide open and I flew right in past the family members as they arrived. There has to be some other way to get through this door. Maybe a tiny little slit that I can squeeze myself through. I pull my hind legs out from under the door, then my butt. But it's not working. Maybe I should have worked out more. So I have to wait until someone opens the door. But wait, I see something shimmering lightly alongside the doors. It's a tiny little hole! This is going to be super easy to pass through. Hurray! I can listen them munching away on their food and that makes my tummy growl, too. Mmm, nothing tastier than a human who's just eaten. I take a little start and I push through the small hole in the door. Keyholes are a great invention, I tell you.
"Jingle bells, jingle bells
Jingle all the way
Oh what fun it is to ride
in a one-horse open sleigh"
I start humming along. I'm in the mood for Christmas. How about you? The lights and the music are always nice, as is having 10, 12, 14, 16 people on the menu. Some of them are still very small, but they've got plenty of blood for me. Today I want to enjoy the party, so I'm just going to find the little blonde girl with the curls and start eating. Mmm-mmm good. Now my tummy is full. Come on, let's sit on the curtain rod and follow the fun a little while longer. They've got delicious looking food on the table and everyone helps themselves to plenty of it. After the meal, another song starts in the background. Time for dessert!
"Silent night, holy night
All is calm, all is bright
Round you virgin Mother and Child
Holy infant so tender and mild
Sleep in heavenly peace
Sleep in heavenly peace"
Oh it's so cozy here. I'm going to hide under the table and sleep there until the morning when they come down to open their presents.
Oh, that was a peaceful night. And the kids are awake before it's light and wake everyone else up. It's finally time. I love watching the kids be so happy over what Santa has brought them!
But, mom probably got the biggest gift of all this year... that's a pretty big sock... I wonder what's inside! Yikes, oh no. Do you recognize it? I'm still out of breath. It is... It is a BG Mosquitaire mosquito trap from Biogents.
How could you do this to me? I will never be able to visit this family again, because next time would be my last. That's how my sister was killed. I hear this trap smells great and promises a shady spot inside. But what it is exactly, I'll tell you next time.
Quick, we have to get out of here! We don't want any bad luck to happen on Christmas morning. Now I have to look for a new family for next Christmas.