After a tiring five-hour flight from Bavaria, I found myself in the duty-free area of a Swedish airport. My ex-wife always wanted to go to Sweden with me on vacation, but somehow, I always managed to persuade her to go somewhere south as a holiday destination. Unfortunately, it is more difficult to persuade my company to send me south rather than north, and as the objective of the business trip was team building, I agreed to go. At least I was spared of carrying along four suitcases, a bunch of toys, and cuddly blankets for kids, and I was able to walk my carry-on trolley pass the long line of the luggage drop-off.
In order to follow the modernity of the north, I saved all of my tickets and other travel documents directly onto my mobile phone. In this way, I contributed to saving the life of trees and had less paperwork to carry with me.
While perusing the duty-free shop, the first thing that struck my eye was a huge variety of mosquito repellents. Usually you find snacks, local delicatessen, and drinks – but anti-mosquito sprays and gadgets? I didn't expect to find those in such large amounts in the airport. Almost every shop offered some sort of anti-mosquito product in their store windows. I remained true to my motto and carried around as little extra weight as possible. Instead, I decided to download an app that promised to repel mosquitoes by emitting ultrasound through the speakers of my mobile phone during my stay in Sweden.
After arriving at the hotel, I quickly organized my clothes, downloaded an anti-mosquito app, and activated it. I didn't have much time as I was immediately meeting with my colleagues at the hotel bar to discuss the next few days over a beer (or two). At such prices, one can expect extraordinary beer, but unfortunately, I was disappointed. Bavarian beer is definitely much better than Swedish beer. Around midnight we all turned in for the night, and I already knew I would have a headache in the morning. However, not the typical hangover headache from bad beer but a headache from the countless mosquito bites I had received at the bar! I was sure that I turned on the anti-mosquito app, but I checked anyways to make sure it was on. A brief look into the app confirmed that it had indeed been running all night.
New day, new app, new luck. Even with a second app, I did not manage to survive the next bar evening unharmed, and before breakfast the next day, I found myself in a pharmacy where I bought a cortisone creme. This time I thought perhaps I was to blame, as I had forgotten to take the phone out of my pocket. Was it possible that the supposedly mosquito-repelling ultrasound coming from the speakers of my phone were blocked? I decided to stay in the hotel room that evening in order to allow my skin to recover, but that decision didn't last long. After the third colleague asked if I wanted to join for dinner, I downloaded app number 3 and activated it in my battle against mosquitoes; this time in a nearby restaurant.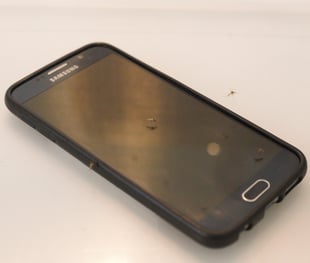 App number 3 was supposedly scientifically tested and rated with 5 out of 5 stars. I thought: This time it can't go wrong! But even that day I wasn't so lucky. The peanuts at the bar tasted stale, and the beer worsened with each opened bottle. Nevertheless, the incomprehensible happened shortly after midnight: I wanted to check my phone which was laying on the table for a text, when I spotted a mosquito hovering directly over my phone. Not only that, but it actually landed right on the screen! Of course, the app called "Mosquito Blocker" for which I paid 2.95 € was in operation.
Back home in Bavaria I did some research. Why did I receive so many mosquito bites, even though these anti-mosquito apps are supposedly scientifically tested? I found the answers quite quickly:
There is no scientific proof that ultrasound repells mosquitoes! On the contrary, there is even a study indicating that the bite rate of yellow fever mosquitoes (Aedes aegypti) increases when commercially available electronic mosquito repellers are turned on.
If you are not convinced yet, you have to watch the video below from the Biogents Contract R&D Laboratory! It shows what happens when you hold a mobile phone with an anti-mosquito app turned on in a cage full of mosquitoes.
Next time I'll be better informed before trying modern approaches, and while traveling I will use tried and true measures against those pesky mosquitoes. A good mosquito repellent might not smell great, but it works!