We're looking forward to meeting you at the 89th annual meeting of the American Mosquito Control Association (AMCA) in Reno, Nevada!
When? Mon, 2/27/2023 - Fri 3/3/2023
Where? The Grand Sierra Resort & Casino Reno
What? The AMCA Annual Meeting is the premier education and networking event for researchers, educators, vector control professionals, industry representatives, and students in mosquito control. Every year since 1935, hundreds gather to hear the latest research, share ideas, and form collaborations.
Biogents at the AMCA Annual Meeting
Biogents has been a regular exhibitor at the AMCA Meeting for more than a decade, and as every year, we're looking forward to participate and meeting you.
Visit us at Booth 216 and get informed about our latest developments, or let us take out any doubts you might have about our products.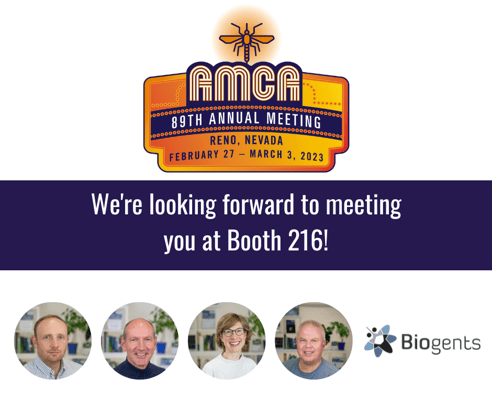 We are always interested in your field experiences - please come by for a chat! Will, Martin, Petra, and Michael are looking forward to meeting you.
This year, we will focus on our smart mosquito trap the BG-Counter. It is placed on top of a Biogents mosquito trap and differentiates mosquitoes from other insects, counts them, and wirelessly transmits the results to a cloud server. With the BG-Counter App, you can manage your traps and analyze your data. This year, we are launching a new version of the BG-Counter app. The new app makes it easier for you, to handle many traps at the same time. A new analyzer tool enables you to interpret the data of several traps at the same time with the help of maps, charts, and tables.
We will also present you the BG-Pro, our modular mosquito trap for researchers, that you can use in different styles (BG-Sentinel, CDC, EVS). By now, several papers in which this trap was used have been published. They show that the BG-Pro catches a wide variety of mosquito species.
You should also take a look at Booth 223, where Clarke is exhibiting Biogents traps.