Hello my dears,
today is a rather unpleasant occasion for me to talk about.
🌎💨🗓️ Can you guess what these pictures are supposed to tell you?
Right - it is "Global Wind Day" which is celebrated by proponents of wind energy, but not by us tiger mosquitoes. Who doesn't like wind you might ask? Well, I can tell you I can't stand wind at all. We tiger mosquitoes are rather delicate creatures. Our legs and wings are so thin, that we can barely move in strong winds. I would simply get blown away if I got caught in a gust of wind! That's why we tiger mosquitoes prefer to hide in the bushes or rest in other places protected from the wind. In this way we don't get totally exhausted. From my perspective, Global Wind Day sounds like a disaster and worst of all, it means that I probably won't get to fly around to find a tasty blood meal today.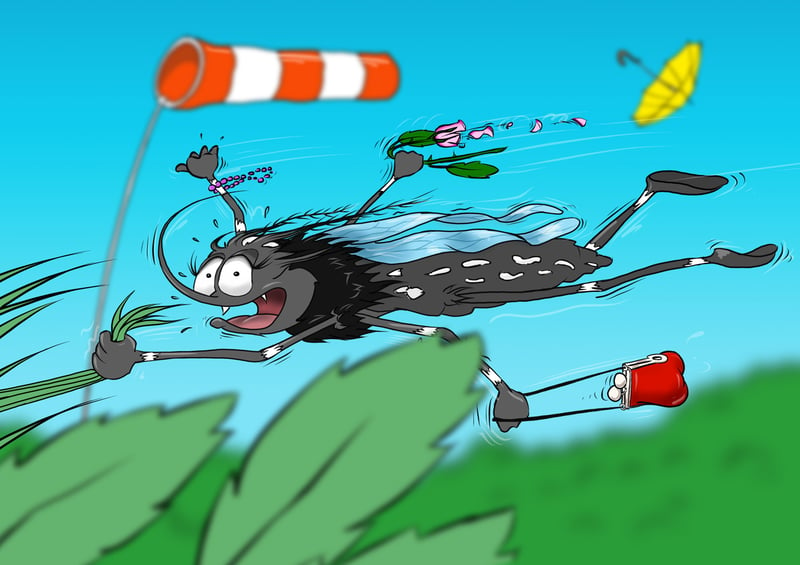 Even if I have to stay in the bushes it won't be totally boring, because every now and then you can see some funny things flying by. For example, young mosquitoes that don't understand yet how wind works can create quite a spectacle. In a strong wind gust, a chair sometimes rushes by, which adds a little excitement to the day. I have actually never seen a BG-Mosquitaire sliding by in the wind. Maybe that's because you all know that the Biogents mosquito trap should be set up in place protected from strong winds? My dearest Marco and I will make ourselves comfortable in the bushes and count what passes by all day.
What are you doing today on Global Wind Day and is your BG-Mosquitaire mosquito trap also an attractive and final shelter for us tiger mosquitoes? Show us your catch results via our social media channels on Instagram or Facebook! 😊
Stormy greetings from
Marcy Mosquito