It's summer and there is one thing that people all over the world love to do - BBQs. No matter if they are young or old, everyone looks forward to the evening barbecue buffet. For me, this is also a very special time of the year. When the days are long and you like to sit with friends and family in your backyards and enjoy the last rays of sunshine in the evening, I can enjoy splendid blood meal hunting sessions – your blood is just delicious!
While you are in the middle of the preparations, I'm already waiting in the shady bushes and getting ready for my big performance. Soon the charcoal is hot and the first steaks are on the grill. A little later, I smell spare ribs, steaks, grilled vegetables, baguette, and you made amazing looking colorful fresh salads. You always come up with great things.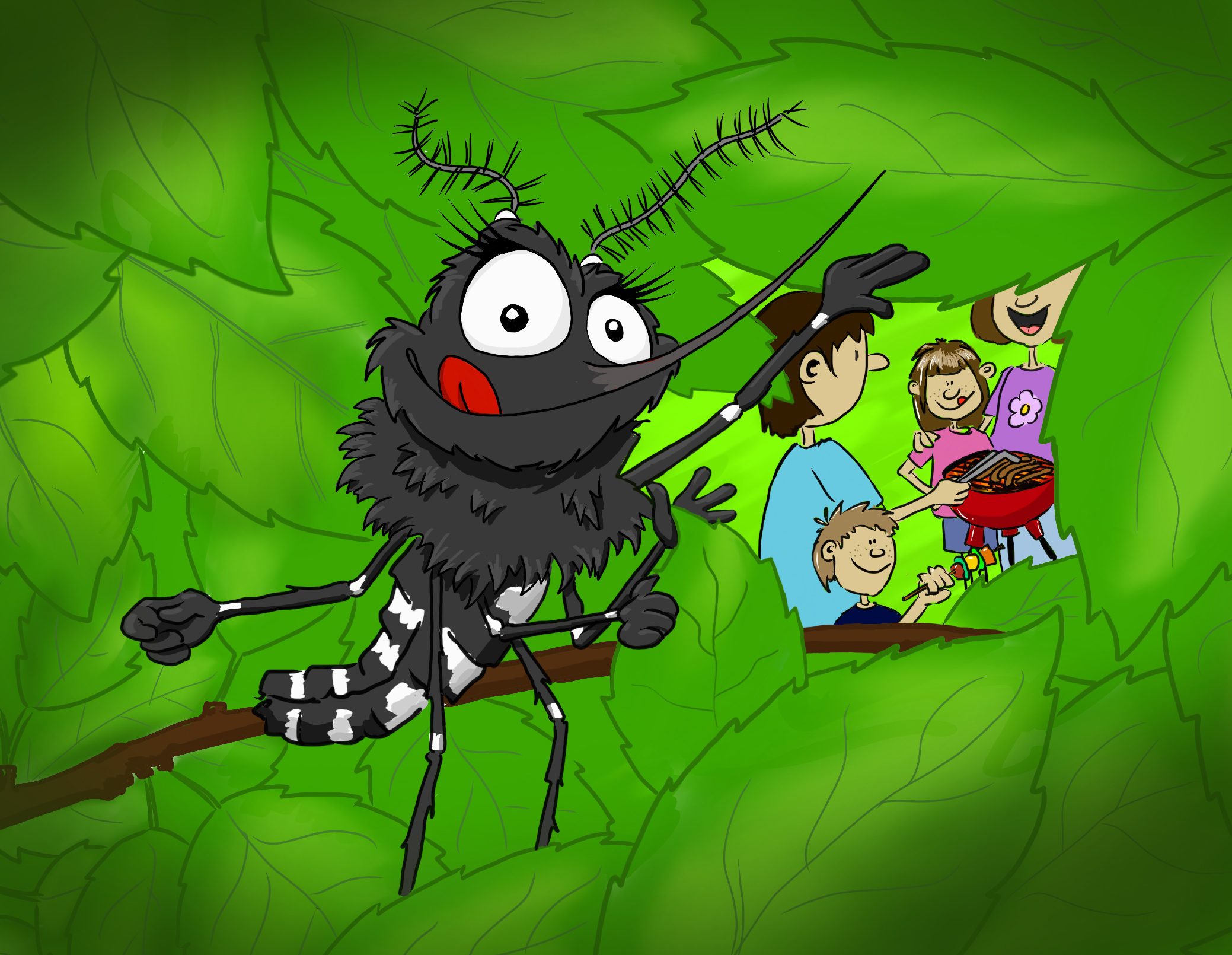 The hunt is on!
The warm summer air is slowly cooling down. The evening breeze not only pleases you; I also prefer leaving my shady bushes when the sun is not too strong. Finally, you're busy with your food. I rather take my blood meal undisturbed…
As soon as you have loaded your plates and eaten the first bites, I take off. A quick look to the left and right before I fly out of the bushes. During barbeque season there's a lot of mosquito traffic so you have to be cautious. Here comes a gap and I can follow my "nose" on the way to you and your loved ones around the patio table. Your irresistible skin scent gets more and more intense. I steer towards your legs and arms – full of anticipation for my blood meal. I really need your blood so that my eggs can develop!
Your garden is a paradise for me and my little ones!
I have already scoped out your home. In the rain barrel there is enough water for my babies, and the birdbath is also very suitable for my offspring. These are perfectly comfy spots for my countless babies! They can enjoy the water and become big and strong before they pupate and hatch shortly afterwards in order to search for blood meals on their own (ok, my boys will look for other girls and drink plant juices).
But one step at a time. There are only a few meters left that separate me from my liquid gold. Another 5 meters, 4, 3, 2, 1 - I hide in the shade behind a chair leg. It's quite noisy here. I hear dishes and cutlery jingling, chewing noises, the children whining. Whew, luckily nobody listened my sweet buzz!
I'm taking another deep breath and off we go. This calf looks particularly appetizing and my proboscis is already very deep inside. I must say I made an excellent choice! Unfortunately, I always have to hurry, because often you notice when I bite. But at least I managed to swallow a good part of my needed blood meal. Why do you always have to move your legs so much? I have to go for a second prey. But first I'll take a rest under the table and look for a suitable new victim. My competitors have already noticed your barbecue evening and are buzzing around in masses. Now, I have to be even more careful!
For the next bite, I choose the little blonde girl as she has already fallen asleep at the table. I sneak towards her feet and my proboscis is already in again. Yummy, delicious! Now, my belly is totally full.
Fortunately, everything went well today, and I can set off for my resting spot in the bushes. In about three days I will fly just around the corner to your rain barrel, bird bath, and flower pots and lay up to a hundred eggs. The barrel is beautifully shaded, not properly closed and regularly supplied with fresh rainwater – that's probably where I will deposit most of my eggs.
It was a really successful evening for me - it's really nice being around you in your backyard! Soon my babies will wiggle around as larvae in the water before they pupate and hatch as adult mosquitoes in less than two weeks. This will be fun, because then we can go hunting for your blood together!
Your neighbor's backyard sucks!
I really don't like your neighbor's backyard. There are plenty of shady bushes and there are always many children playing in the garden, but unfortunately, the rain barrel is well closed and there are no other water-filled containers anywhere. Even their rain gutter is clean. These people are anything but mosquito larva friendly! Recently they have even bought a mosquito trap from Biogents. My mosquito friends tell horror stories about this horrible device. They say it smells irresistibly good, just like you, and looks absolutely attractive. However, some of my siblings and many friends of mine have already found their end there, so I have to stay away from it, even if it's hard for me!
See you next time!
Your Marcy Mosquito