Hi folks, It's me again – Marcy Mosquito and this time I would like to tell you about some upcoming events in the USA. There will be two Home and Garden Shows with over 200 exhibitors, one in Philadelphia, and one in New Jersey. That's a great opportunity for home and garden enthusiasts who are looking for some inspiration and up for a nice little weekend excursion!
At the shows you will find exhibitors of diverse fields, such as Home Design, Cleaning Products and Service, Garden, Outdoors and related. I am already excited to watch all those nice cozy places where I can lay my eggs in! But dear mosquitoes, be especially careful when you read Biogents! Their traps are irresistible!
- At the Philly Home and Garden Show (Feb 14-17 2019), avoid Booth #721
-At the 30th Annual New Jersey Home Show (Feb 22-24 2019), take care at Booth #521!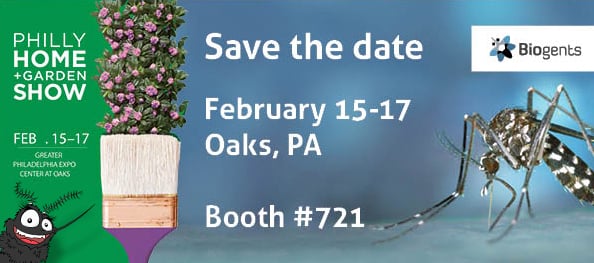 But if you're a human - I suppose you will love these booths. There you will find Biogents Inc. with their innovative, scientifically proven and eco-friendly traps for tiger mosquitoes. Ingeborg, Raphaela and Scott will be there to remove any of your doubts about the traps and mosquitoes in general; and don't worry, they won't bite!
The traps will also be sold at a special show price (with a 25% discount)!
I'm even starting to see the benefits for me. After you've trapped most of my rivals it will be much easier for me to fly in without all of the competition of the others to take my bloodmeal. It's getting crowded out there for a tiger mosquito!
If you have many questions and would like to schedule an exclusive appointment, please use this contact form for the Philly Home and Garden Show, and this contact form for the New Jersey Home Show!
Please leave your comments about your experiences at the Home & Garden Shows in Philly and New Jersey!
Hopefully see you there,
Yours sincerely,
Marcy Mosquito