Smart Traps: An Introduction
Nowadays, the word "smart" before any product is no longer foreign terminology. There are smart phones, smart watches, smart TVs, smart homes, smart cities – just about anything you can think of can be "smart", but what exactly are smart traps? A rough definition could be a trap containing some sort of electronic device with magical software that collects and evaluates data and then transfers this data to a place where it can be easily accessed with another "smart" device, but don't quote us on that. The first smart traps to be commercialized were most likely in the rodent control field with smart rat traps currently being a hot product in the pest control industry. Smart insect traps have also been popping up over the last several years, especially in the agriculture industry, but smart mosquito traps are something new.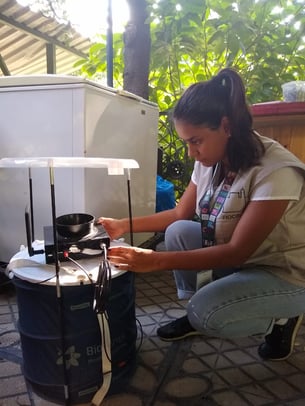 Just in the last one to two years, several big players have jumped on the opportunity to develop smart mosquito traps. The Korean Center for Disease Control (CDC) together with the company E-TND are busy working on a smart mosquito counter device using optoacoustic sensors. The John Hopkins University as well as Stanford University have both received grant money from the USAID to develop low-cost smart traps using high resolution cameras for visual identification or even simple mobile phones as acoustic sensors. Even the multibillion-dollar company Microsoft is funding their own project called Project Premonition to develop mosquito traps that can act as mini-laboratories to capture mosquitoes, identify them and test them for diseases – at least in theory.
In 2017, the Germany based company Biogents AG, released the first commercially available, remote monitoring station for mosquitoes called the BG-Counter after several years of development. But why all the effort, for the mosquito monitoring field that is a bit stuck in the history books and still using a standard method of surveillance that was developed in 1962?
A High-Tech Device for a Low-Tech Field
A natural phenomenon of the new day and age is that the more high-tech and efficient we become the less time we have. Time has become a rare and luxurious commodity for society and saving time means saving money. The mosquito control and surveillance field has a long history in the United States and is extremely important in monitoring and controlling the spread of vector borne diseases such as Malaria, Dengue, West Nile, and Zika. Millions of governmental tax dollars are spent annually to perform such monitoring and control tasks which can be quite tedious and require a lot of man-power. Monitoring programs rely heavily on the human landing catch (HLC) method which has been the gold standard for estimating mosquito populations and disease transmission by mosquitoes for as long as such programs exist. This method entails collectors to sit with their lower legs exposed and to manually collect mosquitoes that come to feed on them during a determined period of time. This method is not only time-consuming but also an ethical and safety concern as the collectors may be exposed to dangerous diseases.
The other standard monitoring method is with mosquito traps which come in all shapes and sizes. Trapping is however also time consuming and requires the collectors to set-up the traps, run the traps, and then collect and identify the catch. Some programs spend the majority of their budgets exactly on this. Essentially, smart mosquito traps aim to decrease the time and effort of the logistics and man-power behind such monitoring programs and save amply in governmental money all while increasing the quality and effectiveness of such important programs. Not only is the reduction of mosquito nuisance a principal goal of such programs but also the reduction of the risk for vector borne diseases.
So, What is the BG-Counter?
The BG-Counter is a key component of an innovative and autonomous mosquito trap station, or basically a smart mosquito trap. The BG-Counter is fixed on top of the BG-Sentinel or orur new BG-Pro trap. It is an electronic device with "magical" software that differentiates mosquitoes from other insects, counts them, and wirelessly transmits the results to a cloud server. Via a web application the mosquito traps can be remotely managed and live data can be received giving new insights into daily activity patterns, adult density indices, population dynamics and effectiveness of various mosquito control activities. The BG-Counter enables real-time measurements as well as prediction models and historical analysis of infested areas allowing vector control professionals to establish surveillance programs with unprecedented data density and accuracy, overcoming labor constraints associated with manual inspection and replacing the Human Landing Catch surveillance method.
Future Perspectives of Smart Mosquito Traps
Smart mosquito traps aren't stopping there! Biogents has received funding from the EU Horizon 2020 program to make this smart trap even smarter. The program is called REMOSIS which stands for Remote Mosquito Situation and Identification System. Next on their to do list is mosquito identification.
In most mosquito control situations, the target species and their biology is known, and a differentiation of the mosquito species captured and counted during monitoring is normally unnecessary. In situations such as the surveillance of invasive mosquitoes or the monitoring of disease vectors during epidemics, the identification of target species would however be important. The main goal of the program is to be able to identify individual species, especially those of medical importance, such as the invasive Asian tiger mosquito, Aedes albopictus, or the Yellow-Fever mosquito, Aedes aegypti.
With the spreading of dengue, chikungunya and Zika in the recent years, such smart mosquito traps can provide mosquito control agencies with valuable information to help control health threats from disease vectors in environmentally friendly and efficient ways.
Take a look at Biogents' Live Mosquito Radar!
Biogents has set up some BG-counters and made their collection data publicly available. Click on this link, then on "Start BG-Counter Demo", then choose a trap on the map, or from the list below the map and explore!