published on 05. Mar 2020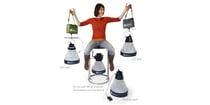 Regensburg, Germany, March 5, 2020:
Biogents AG, mosquito trap manufacturer, is proud to announce its latest development of a new trap for mosquito monitoring and control: the BG-Pro. Based on a modular concept, it includes Biogents versions of the established EVS (Encephalitis Virus Surveillance) trap and CDC (Centers of Disease Control) light trap, as well as an upgraded version of Biogents' BG-Sentinel trap. The new product is a recognition of market requests for Biogents to develop other styles of monitoring traps to the same standard as the BG-Sentinel.
Read more »