published on 20. Dec 2021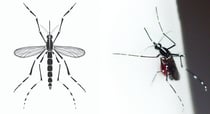 Mosquito surveillance – what is this?
By conducting a mosquito surveillance, you can answer questions such as: Which mosquito species are present? Where are they? At what times during the year do they appear and disappear? This can be archieved by collecting, counting and identifying adult mosquitoes (or their larvae, pupae or eggs). In some areas collected specimen are also screened for the presence of pathogens, such as West-Nile-Virus or Dengue virus. This provides a better overview of regions at risk.
Read more »